PLEASE VISIT US!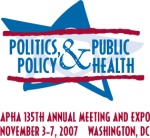 Booth Exhibit Organizer and Coordinator: Dr. Barbara Berney (E-mail: bberney@hunter.cuny.edu)
Co-coordinator: Dr. Ming-Chin Yeh (E-mail: myeh@hunter.cuny.edu)
IAHI is currently organizing the Caucus' Exhibit Booth at the APHA Annual Meeting & Public Health Expo this November (3-7) in Washington DC (Show Floor/Exhibit) in the Washington Convention Center. The Public Health Expo is the largest and most comprehensive public health exhibit featuring more than 675 booths of information, state-of-the-art products, and services geared towards public health professionals. The Health Expo is a central gathering point for attendees to meet and greet each other while learning more about public health careers, schools of public health, health-related government agencies and many other public health service and product-related organizations.